3 races in 3 days.
Epic 3 Challenge, that was a very interesting concept and I immediately wanted to be part of this. Minor issue was that I did not swim for at least a year.
After some thoughts how to make it to the swim part I decided to register. I had enough stamina to make the swim as all the races where short distance.
First race was at the Zermanice water reservoir. Distances were 400 m swim, 15 km bike and a 4 km run.
Start was at 18.00 hours and after some hot weeks this was the correct time for the weather to change. It was raining and thunderclouds were all over the place. The weather cleared a bit and start was on numeric order.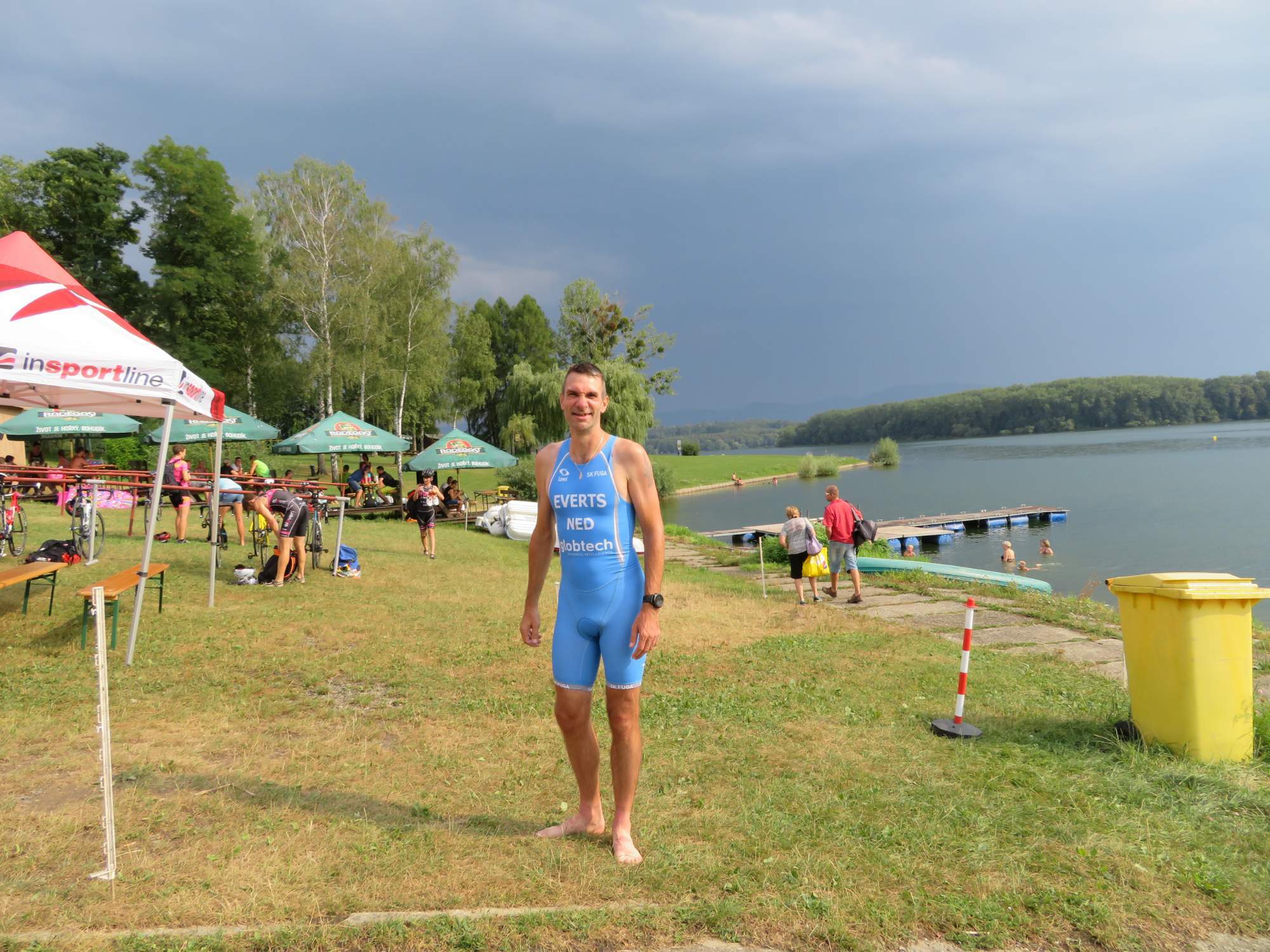 Swim was not good and I had to change to classic breaststroke due to breath shortage. After 8 min it was time for the bike part. Immediately out of the transitzone there was a steep climb and I had to give all my power to keep riding. Up the hill it went downwards and I was able to keep up the pass and follow some athletes in front of me. They give me a good focus point to keep up the speed. With some rolling hills and a steep climb at the end I was back at the transit zone in 33 min. Now time to see if the legs were any good. After a quick transit I started to run at a reasonable pace, but find out that the rain made the course at the shore very slippery. I decided to slow down to avoid any injuries. Finally some pavement, but with a very steep climb that really hurt my legs. I had to walk the last part of the climb and started to run again at the top down. The course had to be run 2 times and after the second run I was back into the transitzone in 24 min. Total time 1 .07 hour. Not bad for the first day.
Second day started at 11.00 at the Water reservoir of Terlicko. Distances were 750m swim, 22 km bike and 6 km run. It was still raining a bit, but the temperature was fine. After a mass start I was able to find my pace and finished the swim in 18 min. After a quick transition and a climb at the beginning I find my pace and started with a strong speed. The course contained some climbs where I had to slow down to keep my strenght for the last part of the race. After 42 min I was back and ready to start the run. First part of the run was a very nice uphill part and keeping the pace slow but consistent payed of. I had good legs today and was able to give it a go to finish strong. After 27.56 min I finished the second race with a time of 1.29.56. Not bad as I did my last races 2 years ago.
Third day was the last race and everyone was exited to see who had some strenght left to finish strong. Todays distance was a 1 km swim, 30 km bike and a 9 km run.
Start at 11.00. we had to start accordingly to the time you were behind the number one from saturdays race.
I was able to swim all distance crawling and after 22.58 min I got out of the water to make a run to the transition zone which was 1.5 km away from the swim part. By far the longest transition I ever made and after 9.30 min I got to the bike part. First 5 km was uphill and really challenging for the legs. as I live in Holland I have no experience with hills so I was really working hard to get to the top. After the climb the course went down and I got the chance to speed up and move some places up. The second part of the course contained a second climb and with smart cycling I could keep my legs fresh for the second lap. This time my legs were already warmed up and it went better then the first lap. Quickly back into the transition zone just under 1 hour and ready to for the run. Legs were feeling a bit tired but I was able to run at a reasonable speed untill the climb. I could run uphill 2/3 of the climb and had to walk the last part to save my legs. After the hill it went down and I could speed up to make it up for the lost time. Second lap was a bit harder and I decided to follow my first lap strategy. Finally the last lap and I was able to maintain the same speed as lap1 and 2 and after 47.40 min I finished with a total time of 2.20 hour.
3 races in 3 days proofed to be a concept that worked out well. Organisation of all races were good and I think that E3CH is here to stay. I will sure be back to try to improve my time of this years race.
Photo by Radim (day 1, day 2, day 3) and Iveta (day 1, day 2, day 3).